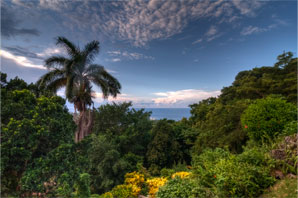 Natural Energy Recharge
- This is the ultimate in Caribbean getaway combinations; serene tropical beauty amidst the comfort of world-class amenities. If you are looking for a time-machined tropical experience off the beaten path of tourist traps we invite you to visit beautiful Port Antonio in the parish of Portland, Jamaica.
Known internationally as the hidden jewel of the island, Port Antonio is home to some of the most stunning jungle and sea topography the world has to offer!
Portland's vibrant land and seacapes, tropical colors and lush, breathing jungles, air and water quality and, diversity of organic foods comprise the very essence of healthy living!